Rebecca Gayheart and Grey's Anatomy star Eric Dane have welcomed their second child together, another girl they've named Georgia Geraldine!
Gayheart, 40, and Dane, 39, have been married since 2004, and are already parents to daughter Billie Beatrice, who was born in March 2010.
"Rebecca Gayheart and husband Eric Dane welcomed Georgia Geraldine Dane on Dec. 28, just in time for the New Year!" the pair's rep says.
"Both mom and baby girl are happy and healthy, Billie is thrilled to be a big sister, and dad is getting ready to live in a house full of ladies!"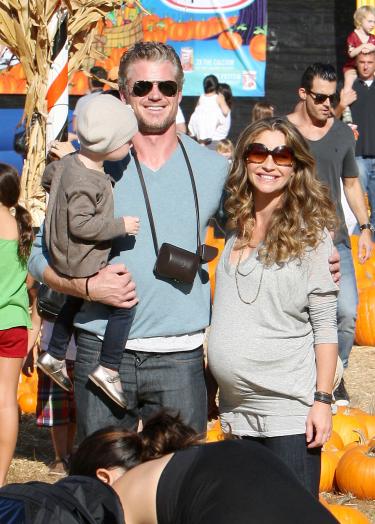 In August, an expectant Rebecca Gayheart shared with People some details about going through what was a more relaxed second pregnancy.
"What's made it different is that I'm very focused on Billie … so I'm not very focused on [the pregnancy]. I'm not as neurotic," the actress said.
She also confessed to readying herself for the obstacles that awaited the couple as they prepared to parent two kids under the age of 2:
"I've heard that's very challenging. But I think I'm up for it. Eventually it's going to be great because they'll be very close in age, and to each other, hopefully."
Congratulations to the happy, growing family!
[Photo: WENN.com]
Source: http://www.thehollywoodgossip.com/2011/12/eric-dane-rebecca-gayheart-welcome-baby-2/
world aids day 2011 chester mcglockton chester mcglockton arsenic los angeles weather big ten acc challenge scott disick